Clinical Medicine
Gain experience in local clinics while learning Spanish and giving back to the community.
Clinical medicine volunteers will work alongside Peruvian medical staff in local hospitals and clinics, where they will have the chance not only to gain practical experience but also to learn first-hand about a healthcare system that is vastly different from its counterpart in the US. Volunteers will also have the opportunity to work directly with the community during the medical campaigns by assisting local doctors in providing medical care to those in need as well as through health education campaigns addressing important public health issues such as hygiene and nutrition.
Volunteers in Trujillo, Otuzco and Pacasmayo are placed in local clinics and hospitals in groups of one to five, where they work under the supervision of medical staff. The activities in which volunteers are able to support clinic staff vary greatly depending on the needs of the community as well as the medical staff. Daily volunteer activities may include visiting patients in the community who need check-ups, giving vaccinations at a local school, teaching children about the importance of proper dental hygiene, observing doctor-patient interaction, discussing the differences between the American and Peruvian healthcare systems with medical staff, assisting doctors with physical exams or learning to suture with medical students.
To supplement their clinical experience, volunteers will participate in an intensive medical skills and medical Spanish course in which they will learn how to take patient histories, record vital signs, diagnose common illnesses, practice dialogues in Spanish and perform basic physical exams. This course will enrich volunteers' experience in the clinics as well as prepare them to work with patients during medical campaigns, where they will work with Vive Peru staff to provide basic medical care and medication to children and families in the poorest sectors of Trujillo and Otuzco.
Spanish proficiency is not required by Vive Peru, but it is strongly recommended. Many volunteers find that any level of Spanish comprehension will enhance interactions with patients and medical staff.
All of our volunteers participate in an orientation upon arrival to Peru.  For our summer program, the orientation lasts about 5 days and for our other programs, the orientation lasts 2-3 days.  This orientation is important as it gives volunteers a sense of where they are and what is important to the Peruvian people they will be working with for the next month.  And as our past volunteers will tell you, it's lots of fun!
Our orientation includes activities such as:
Peruvian Cooking Class
Latin Dance Lesson
Archaeological Site Visits (Chan Chan or Huaca de la Luna)
Sandboarding or Surfing
Survival Spanish Lesson
Work Site Visits and Introductions
Presentation of Traditional Peruvian Dances
We also go over important information for your stay in Peru such as:
Staying Safe in Peru: Thinking Like a Peruvian
Introduction to Work Sites & Health and Education Systems in Peru
Recommendations for Americans volunteering in Peru
Cultural Differences applicable to your stay in Peru
Weekend Travel Information
Our staff also provides continuous support throughout the course of the volunteer program.  We have coordinators present in all project locations who check in with volunteers several times a week.  Our staff visits host family locations and partner worksites on a weekly basis and is available to volunteers at all times during the course of the volunteer program.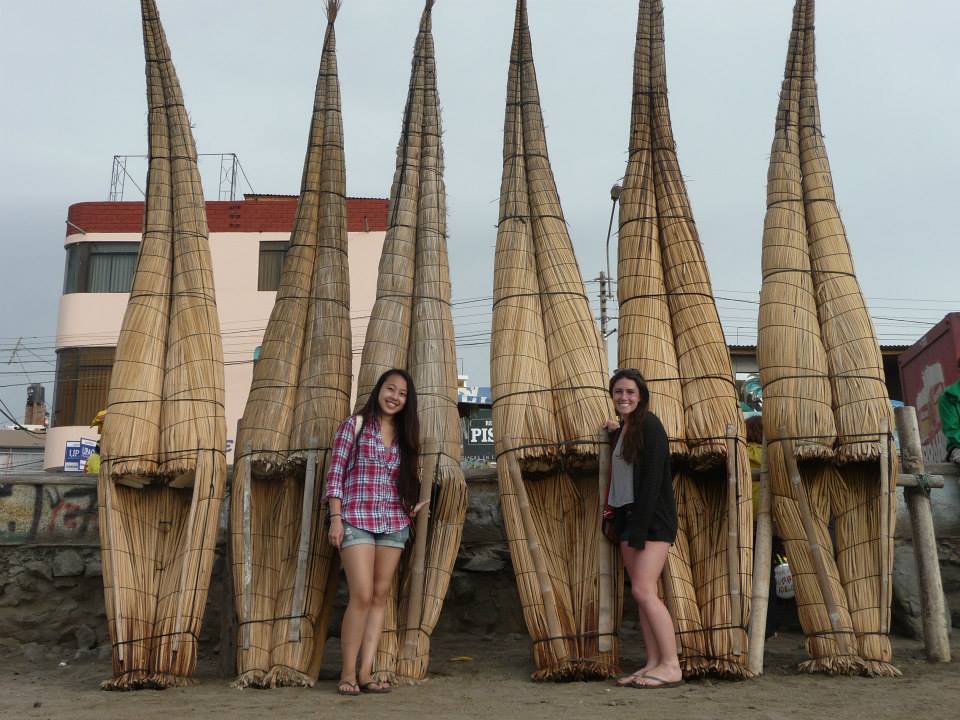 The following is a sample weekly itinerary for Clinical Medicine Volunteers. Individual volunteer experiences will differ depending on each volunteer's clinical placement and the priorities of the clinics and hospitals throughout the year.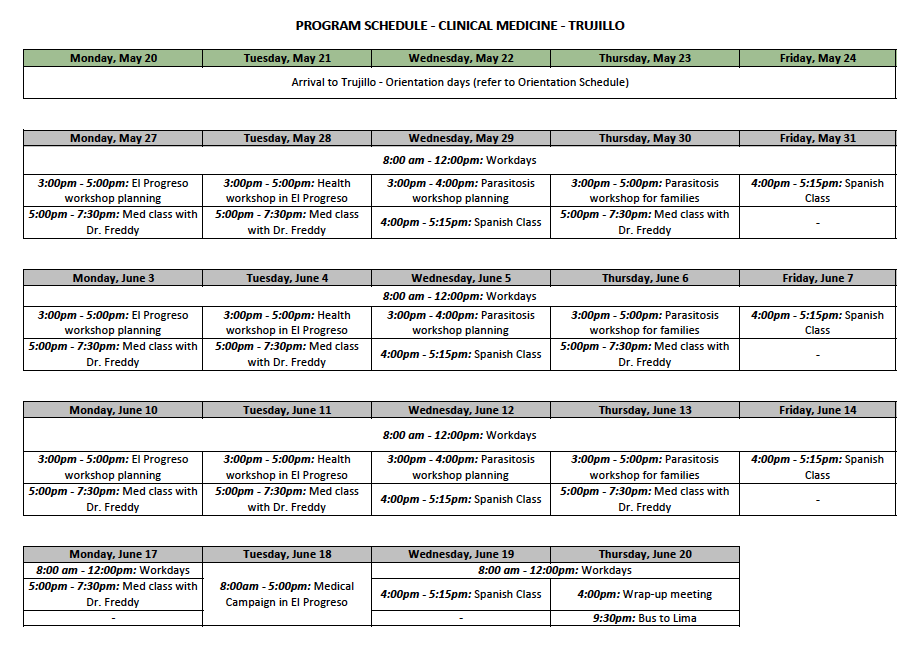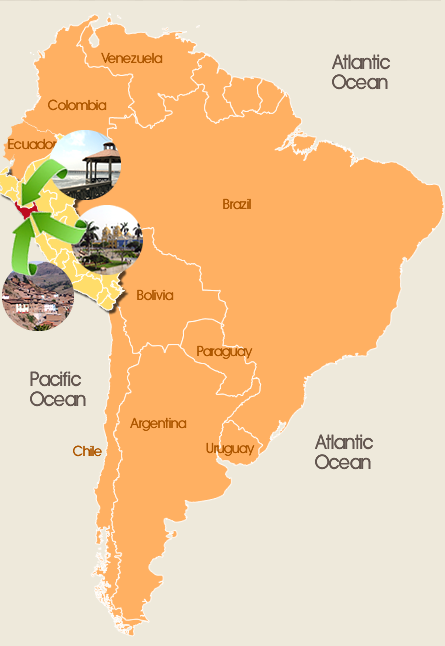 Trujillo
Trujillo, home to more than 800,000 people, is the capital of the northern Peruvian coast and is known locally as the capital of eternal spring.  Culture and tradition run through the city's veins, extending from the region's rich archaeological history to its well-preserved culinary and cultural traditions.  Trujillanos are proud of their colonial history, which is alive in the Spanish colonial mansions that are still standing in the city's downtown area.  To this day, locals gather in these luxurious casonas to enjoy their rich cuisine and enjoy their region's typical dance, the marinera.  Volunteers staying in Trujillo are only a 15-minute bus ride away from some of Peru's most important historical sites, including the ancient Moche and Chimú administrative and religious centers that predate the Incas by 1500 years.
Although Trujillo receives thousands of tourists a year, the living conditions in the outlying communities of the city are often extremely impoverished and underdeveloped.  Substandard living conditions contribute to the most common health problems seen in local medical facilities, and many medical institutions struggle to provide the communities they serve with basic care.  Clinics are understaffed and underfunded, and as a result, doctors struggle to give patients the comprehensive care and health education they need.
Just as the living conditions range from extremely impoverished to luxurious, so does the quality of education.  Children from poorer areas of Trujillo are unable to attend better-funded and higher quality private schools, and the quality of education at public schools is often sub-par, due to large class sizes and a lack of ability to attract talented teachers.  In addition, public schools are largely underfunded, leaving them with the inability to develop quality extracurricular programs, which are powerful resources in helping keep lower-income children off the street and in school.
Otuzco
Otuzco, with a population of just over 25,000 people, is a traditional mountain village in the Andes Mountains.  The capital of the Otuzco region, the city's primary charm lies in its breathtaking surroundings and its traditional character.  Houses are closely packed together, and the city streets are narrow and cobbled and often crowded with vendors selling everything from potatoes to knit hats to DVDs.  Otuzcanos continue to dress in their colorful traditional clothing, and women carry their children on their backs in typical Andean blankets, which are sometimes still knitted by hand.  To travel to the outside rural communities, locals rely on donkeys for transportation.
The city, at an elevation of over 8000 feet, is a local attraction, home to La Virgen de la Puerta, a religious image of the Virgin Mary. Pilgrims visit throughout the year and especially on December 12, on the Feast of the Virgin, when the people of Otuzco flood the streets to celebrate their fiesta.  Many pilgrims walk on their knees from Trujillo to Otuzco to show their devotion to the Virgin and to light a candle for their intentions upon arrival.  Over 20 local bands play huaynos, the traditional dance of the Peruvian Andes, and local people dance to their beat and celebrate for several days with fireworks, dancers and music!
Otuzco itself has basic services such as electricity and running water throughout the city as well as mobile phone service, Internet cafes and an ATM.  Partly due to the large number of local visitors to the city, the road to Otuzco is a modern, asphalt road that is generally maintained and transportation to and from Trujillo is inexpensive and reliable.   Everything in the city is within walking distance, although mototaxis will also take you around the city if its hilly terrain wears you out.
Education and healthcare are readily available in the city of Otuzco; however, there are no private institutions, and clinics as well as schools are typically under funded and sometimes understaffed.  Volunteers will have the opportunity to be much more involved at the clinical level and to have a real impact on the community.  Clinic staff often travels outside of Otuzco to visit rural communities in the region, and you might have a chance to visit as well to experience how much of the mountain population lives in Peru.  Foreigners rarely visit Otuzco, and the clinical and educational staff will show you their true appreciation for your visit as well as your openness to sharing with them about what life is like in another country.
It is important for volunteers in Otuzco to have an intermediate to advanced level of Spanish, as very few people in Otuzco speak English.  Volunteers should also be open to living in a small community and under simple living conditions, but accommodations are still clean, safe, and comfortable. Volunteers have easy access to Trujillo and beyond for weekend travel.
*Program location in Otuzco depends on site availability and volunteer interest.
Pacasmayo
Pacasmayo, home to just under 30,000 inhabitants, is a nostalgic beach town on the Northern coast of Peru. It is most well known for its warm climate and its surf, which attracts surfers from around the world. Characterized by its boardwalk and traditional Spanish architecture, Pacasmayo has a charm all its own. The atmosphere in Pacasmayo is quiet and relaxed, although the town has grown quite a bit in past years. Tiny restaurants dot the center of town, where locals and foreigners hang out in the evening hours to enjoy the food and to chat. Visit the nearby town San Pedro de Lloc to try tortilla de lagartija, a dish made of local lizards hunted by locals, and humitas, which are similar to tamales but have earned a fame all their own in the region. Just 14 km outside of Pacasmayo, volunteers can visit the archaeological site of Paktanamú, where they will observe the ruins of 50 pyramids as well as plazas and rooms that have stood the test of time.
Due to its location in the coastal region of Peru, Pacasmayo is much more modern and developed than other towns of its size in the Andean and jungle regions of the country. Transportation to and from Trujillo, Peru's 2nd largest city, leaves every half hour, and as a result, many Pacasmayinos travel often to visit friends and family in the city. Modern comforts such as tile floors, hot water and internet are more common here than in other parts of the country, and there are ATMs and even a post office in town. If you long for the metropolitan environment or international fast food chains, Trujillo or Chiclayo are only a 2-hour bus ride away.
Although healthcare and education are widely available in the region of Pacasmayo, public institutions are generally underfunded and understaffed. Health institutions operate with limited resources and suffer from a common provincial problem, which is that most well trained professionals prefer to live in Trujillo or Lima. Common supplies are often lacking, and medical devices are available but often outdated or worn down. Clinical Medicine volunteers will have the opportunity to work alongside Peruvian medical staff in two different healthcare systems: General Healthcare or MINSA and Healthcare for Insured Patients or ESSALUD, which are both government programs but work within very different realities. Volunteers will work in Pacasmayo as well as the nearby provinces of San Pedro de Lloc and Guadalupe.
There are several excellent private schools in the region, but public schools lack the funding to provide worthwhile extracurricular classes to their students such as computing and English. Class sizes are more reasonable than in larger metropolitan areas, but resources and staff are limited, and teachers must be creative in finding a way to provide their students with a well-rounded education.
Pacasmayo does not have government-sponsored art and music schools as in larger cities like Trujillo and Lima. However, local residents are working to implement artistic and cultural activities in the region. With a lot of hard work, they have been able to restore the local theatre and provide music, art, theatre and dance classes on a limited basis to the community. Funds and teachers are scarce, and they are in need of long-term volunteers and financial support to provide quality programs to the community.
*Program location in Pacasmayo depends on site availability and volunteer interest.
Vive Peru works hard to make the prices of its volunteer programs as reasonable as possible while maintaining a highly qualified staff and high-quality volunteer opportunities. Volunteer program donations support our staff in Peru and make long-term sustainable projects in the community possible. A portion of volunteer program donations goes directly to support the communities and institutions we work with in Peru.
Winter 2022 Programs
4-week program: $1850
3-week program: $1650
2-week program: $1350
1-week program: $1000
Spring & Summer 2023 Programs
1-month program: $1850
2-month program: $2400
3-month program: $2950
Spring & Fall Break 2022-23
Volunteer Program Fee Includes:

Preparation and Training before departure
Orientation Activities
Airport pickup and transfer to hostel
Transportation from Lima to volunteer site
Transportation to and from volunteer activities
Food and housing for the duration of the program
On-going staff support and supervision
Volunteer Program Fee Does Not Include:
Round-trip flight to Lima
Traveler's insurance
Vaccinations recommended by CDC
Passport costs and visa fees (if necessary)
Personal weekend trips
Personal expenses (cell phones, souvenirs, Internet cafes, etc.)
Payment can be made by sending a check to our USA office or paying online in the Donate tab.