Social Work volunteers will have the opportunity to gain a wide variety of hands-on experience with social work institutions working to serve children in Peru, as well as receiving a general education regarding the social programs promoted by the Peruvian government. From running teamwork and self-esteem workshops in group homes, to participating in home visits to single mothers in order to promote public health, volunteers will have ample opportunity to interact with both the participants in these social programs as well as with local social work staff and volunteers.
Depending on the institution, volunteers will interact with children from 11 months to all the way up to 18 years of age. Activities can include teaching small classes on health, arts and crafts, or English; running workshops on anti-bullying, self-esteem, or similar themes; observation of government-funded social programs; assisting in planning and running of public health promotions and associated home visits; or even something simple and fun like painting a mural with the kids.
Vive Peru staff will meet with volunteers on a weekly basis to help them plan activities at the institutions where they are working and help them locate the materials they need to provide the children at these institutions with an enriching experience as well as to help volunteers be more effective at their work sites. Although Spanish proficiency is not required for participation in this program, a basic-intermediate level in Spanish is highly recommended, as most staff and children do not speak English.
This program can be combined with the Learn Spanish program for beginning Spanish speakers.
All of our volunteers participate in an orientation upon arrival to Peru.  For our summer program, the orientation lasts about 5 days and for our other programs, the orientation lasts 2-3 days.  This orientation is important as it gives volunteers a sense of where they are and what is important to the Peruvian people they will be working with for the next month.  And as our past volunteers will tell you, it's lots of fun!
Our orientation includes activities such as:
Peruvian Cooking Class
Latin Dance Lesson
Archaeological Site Visits (Chan Chan or Huaca de la Luna)
Sandboarding or Surfing
Survival Spanish Lesson
Work Site Visits and Introductions
Presentation of Traditional Peruvian Dances
We also go over important information for your stay in Peru such as:
Staying Safe in Peru: Thinking Like a Peruvian
Introduction to Work Sites & Health and Education Systems in Peru
Recommendations for Americans volunteering in Peru
Cultural Differences applicable to your stay in Peru
Weekend Travel Information
Our staff also provides continuous support throughout the course of the volunteer program.  We have coordinators present in all project locations who check in with volunteers several times a week.  Our staff visits host family locations and partner worksites on a weekly basis and is available to volunteers at all times during the course of the volunteer program.
The following is a sample weekly itinerary for Social Work Volunteers.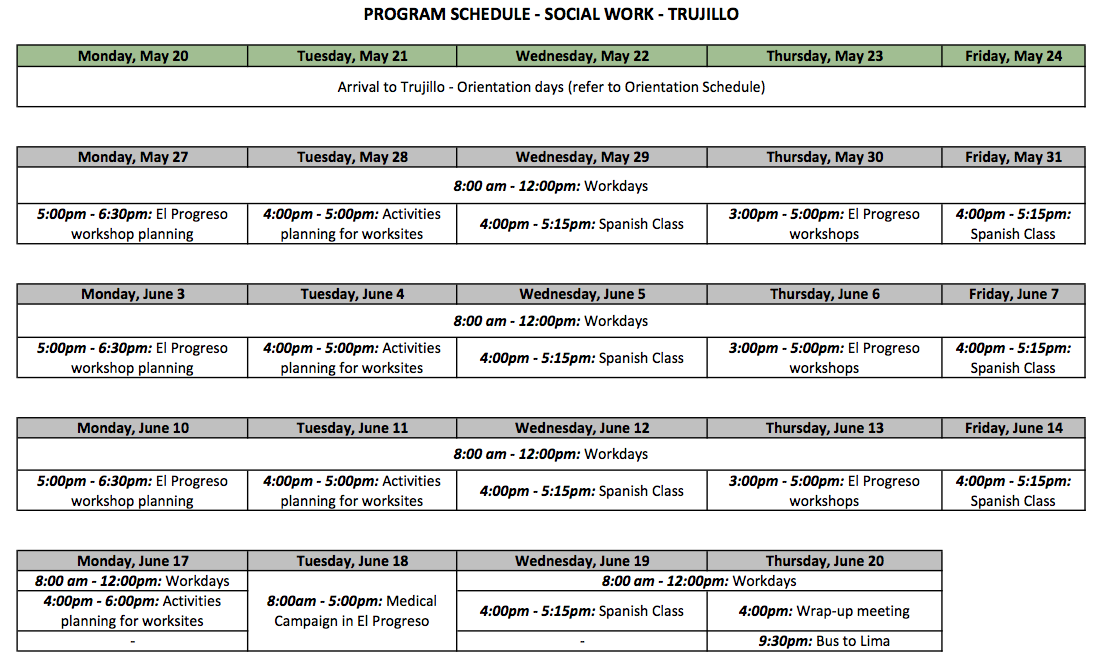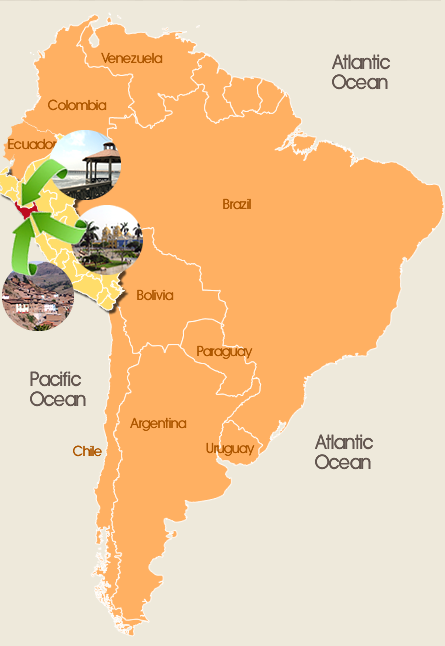 Trujillo
Trujillo, home to more than 800,000 people, is the capital of the northern Peruvian coast and is known locally as the capital of eternal spring.  Culture and tradition run through the city's veins, extending from the region's rich archaeological history to its well-preserved culinary and cultural traditions.  Trujillanos are proud of their colonial history, which is alive in the Spanish colonial mansions that are still standing in the city's downtown area.  To this day, locals gather in these luxurious casonas to enjoy their rich cuisine and enjoy their region's typical dance, the marinera.  Volunteers staying in Trujillo are only a 15-minute bus ride away from some of Peru's most important historical sites, including the ancient Moche and Chimú administrative and religious centers that predate the Incas by 1500 years. Although Trujillo receives thousands of tourists a year, the living conditions in the outlying communities of the city are often extremely impoverished and underdeveloped.  Substandard living conditions contribute to the most common health problems seen in local medical facilities, and many medical institutions struggle to provide the communities they serve with basic care.  Clinics are understaffed and underfunded, and as a result, doctors struggle to give patients the comprehensive care and health education they need. Just as the living conditions range from extremely impoverished to luxurious, so does the quality of education.  Children from poorer areas of Trujillo are unable to attend better-funded and higher quality private schools, and the quality of education at public schools is often sub-par, due to large class sizes and a lack of ability to attract talented teachers.  In addition, public schools are largely underfunded, leaving them with the inability to develop quality extracurricular programs, which are powerful resources in helping keep lower-income children off the street and in school.
Vive Peru works hard to make the prices of its volunteer programs as reasonable as possible while maintaining a highly qualified staff and high-quality volunteer opportunities. Volunteer program donations support our staff in Peru and make long-term sustainable projects in the community possible. A portion of volunteer program donations goes directly to support the communities and institutions we work with in Peru.
Winter 2023 Programs
4-week program: $1900
3-week program: $1700
2-week program: $1400
1-week program: $1050
Spring & Summer 2024 Programs
1-month program: $1900
2-month program: $2450
3-month program: $3000
Spring & Fall Break 2024
Volunteer Program Fee Includes:

Preparation and Training before departure
Orientation Activities
Airport pickup and transfer to hostel
Transportation from Lima to volunteer site
Transportation to and from volunteer activities
Food and housing for the duration of the program
On-going staff support and supervision
Volunteer Program Fee Does Not Include:
Round-trip flight to Lima
Traveler's insurance
Vaccinations recommended by CDC
Passport costs and visa fees (if necessary)
Personal weekend trips
Personal expenses (cell phones, souvenirs, Internet cafes, etc.)
Payment can be made by sending a check to our USA office or paying online in the Donate tab.